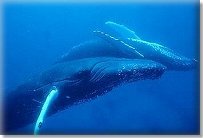 Samaná Bay has the rare distinction of being one of the best locations internationally to observe the well known and popular whale species, the Humpback (Megaptera novaengliae).
Each winter Humpbacks migrate anywhere from 2000 to 4000 miles, from distant northern feeding grounds in the Gulf of Maine, the east coast of Canada, Greenland and Iceland, to the warm Caribbean water of the Dominican Republic to reproduce.
Almost the entire North Western Atlantic Humpback whale population spend the months of January, February and March utilizing several offshore areas, Silver Bank and Navidad Bank as well as Samaná Bay, like singles bars on a single's bar circuit, males looking for females and vice-versa, courting and competing for the opportunity to mate.
Pregnant females give birth and nurture their offspring, preparing their calves for the long return journey north and adolescent Humpbacks learn by example their future reproductive roles.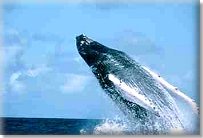 Humpback whales are a whale watchers delight, they are coastal whales, easily found very close to shore and are considered one of the most active species of whale in the world with an amazing repertoire of behaviors some of which are unique to the reproductive end of their annual migration. The lonely, haunting song of the solitary male Humpback can be heard in Samaná Bay waters and groups of males aggressively compete for the right to escort eligible females.

The presence of whales in Samaná Bay has been recorded historically with pictographs left by indigenous peoples on cave walls, in Los Haitises National Park and written records beginning with the ships log of Christopher Columbus in January 1493.

The Dominican Republic has historically been a non whaling nation, and with the development of whale watching in 1990 continues this ethic, promoting whale watching as a sustainable economic alternative to whaling on an international level.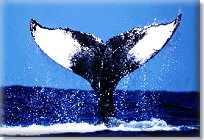 We are proud of our Humpbacks and have become a unique example to the rest of the world with the establishment of whale watch regulations in 1994. These regulations were developed, based on a cooperative management model, involving governmental and non governmental organizations, captains, boat owners, scientists and authorities with a common concern.

To protect this species and ensure for future generations that Humpback whales continue to return to these waters every winter to reproduce.

We take our responsibility very seriously and recommend that all whale watchers intending to visit Samaná Bay, consider the following:
Ensure that your chosen vessel has a permit to enter the whale watch area.
Be aware that some vessels have naturalists on board and some do not
Whale watching requires a certain degree of patience. These are wild animals and their behavior is based on whale - whale interactions.
Humpback whales are an endangered species and Samaná Bay is an important breeding and nursery area.
Familiarize yourself with the whale watch regulations.
Help us to protect this amazing creature.
Comply with the regulations and have a wonderful
experience with our Humpbacks !